Expert explains the steps for efficient water removal
9/14/2022 (Permalink)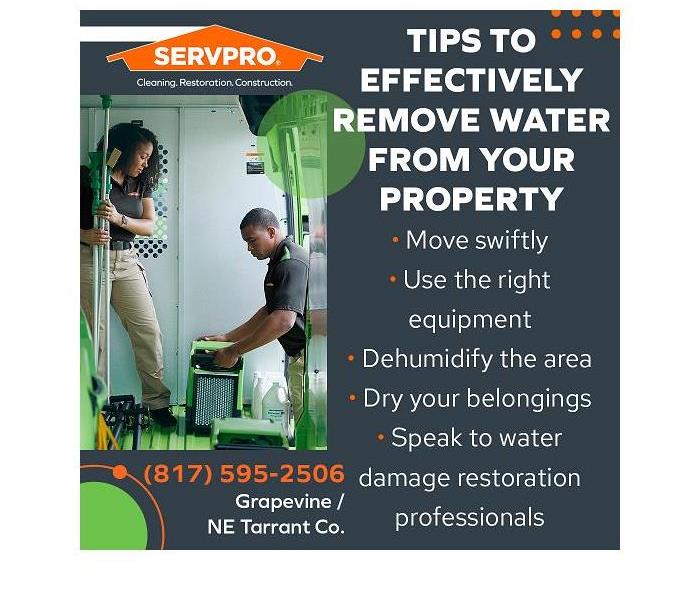 Blog Summary: Are you confronted with water damage? Here's how you can effectively remove water from your property.
Removing standing water is the first and most essential part of an effective water restoration process to mitigate water damage. Clearing the standing water and drying any hidden water will protect the structural integrity of your property and stop mold growth.
However, water removal can be quite challenging. Depending on the level of water, you may need industrial pumps to get rid of any standing water and high-volume fans and dehumidifiers to dry out any hidden moisture.
SERVPRO® of Grapevine / NE Tarrant Co. is a leading water damage restoration company in Grapevine. They've removed standing and hidden water from several homes and businesses, restoring them to their preloss stage.
The water restoration professionals at SERVPRO of Grapevine / NE Tarrant Co. have outlined the following actionable tips to effectively remove water from your property.
1. Move swiftly
How fast you act when faced with a water damage situation can determine the level of damage you'll experience. Call a water damage restoration company like SERVPRO of Grapevine / NE Tarrant Co. once you notice any signs of water damage. They'll arrive at your property quickly and help you handle the restoration process, including water extraction and drying.
If you want to work alone, you must first turn off your electricity unit before starting the water removal. Also, wear protective gear such as waterproof gloves and boots to protect yourself.
2. Use the right equipment
Using the proper equipment is the surest way to ensure you do a good job of removing all the water from your home. While depending on fans and sunlight to dry up affected areas can be great, it doesn't always dry out all the water, and you may end up with moisture remaining inside your property's walls.
Industrial pumps and fans are more effective at extracting and drying up a water-damaged area, especially if you are dealing with a flood. Water damage restoration professionals also use moisture detectors that allow them to find hidden moisture that has gone unnoticed.
3. Dehumidify the area
It's important to get rid of any moisture in the air since evaporation raises humidity levels. Industrial models are the best dehumidifiers for water removal since they operate more quickly and effectively.
Opening doors and windows is also a great idea if you live in a dry area where the outside humidity is lower than the inside, but make sure to close it if the outside humidity increases.
You could turn on the heat to speed up the drying process if your furnace and air conditioning equipment were not flooded. Warm air also dries things more thoroughly.
4. Dry your belongings
Water removal doesn't end with drying the building. You also need to dry your belongings to restore them to their preloss state. Clean your furniture, rugs, and other items, and then dry them with a fan or sunlight to eliminate signs of water damage.
5. Speak to water damage restoration professionals
Calling a water damage restoration company for help is one of the best things you can do if faced with a water damage situation. Water restoration professionals have the equipment and expertise required to extract water quickly and restore your home and belongings.
They also reduce the likelihood of mold growth and stop further damage that could cost you more in the future.
Professional water damage restoration is available in Grapevine, TX
Have you experienced water damage in your Grapevine, TX home or business? SERVPRO of Grapevine / NE Tarrant Co can help. They have a team of experienced and licensed water damage restoration experts that can handle damages of all sizes. They have the tools and expertise to quickly clear out water from your property, locate and dry out any hidden moisture, and restore affected belongings.
SERVPRO of Grapevine / NE Tarrant Co. is IICRC accredited and is available 24/7 to help you handle any type of disaster.
Call them at (817) 595-2506 to learn more about their restoration services.